Red Bentuangie Kratom is an excellent kratom for people who are looking for mental and physical relief.
The fermentation process for Red Vein Bentuangie takes a significantly longer time than is usual for kratom strains (at least for the majority). During the fermentation process, there are positive changes in the alkaloid concentration that enable a stronger and more relaxing experience.
The overall result is an exemplary strain that may be difficult to find in some cases but is worth the extra effort most times.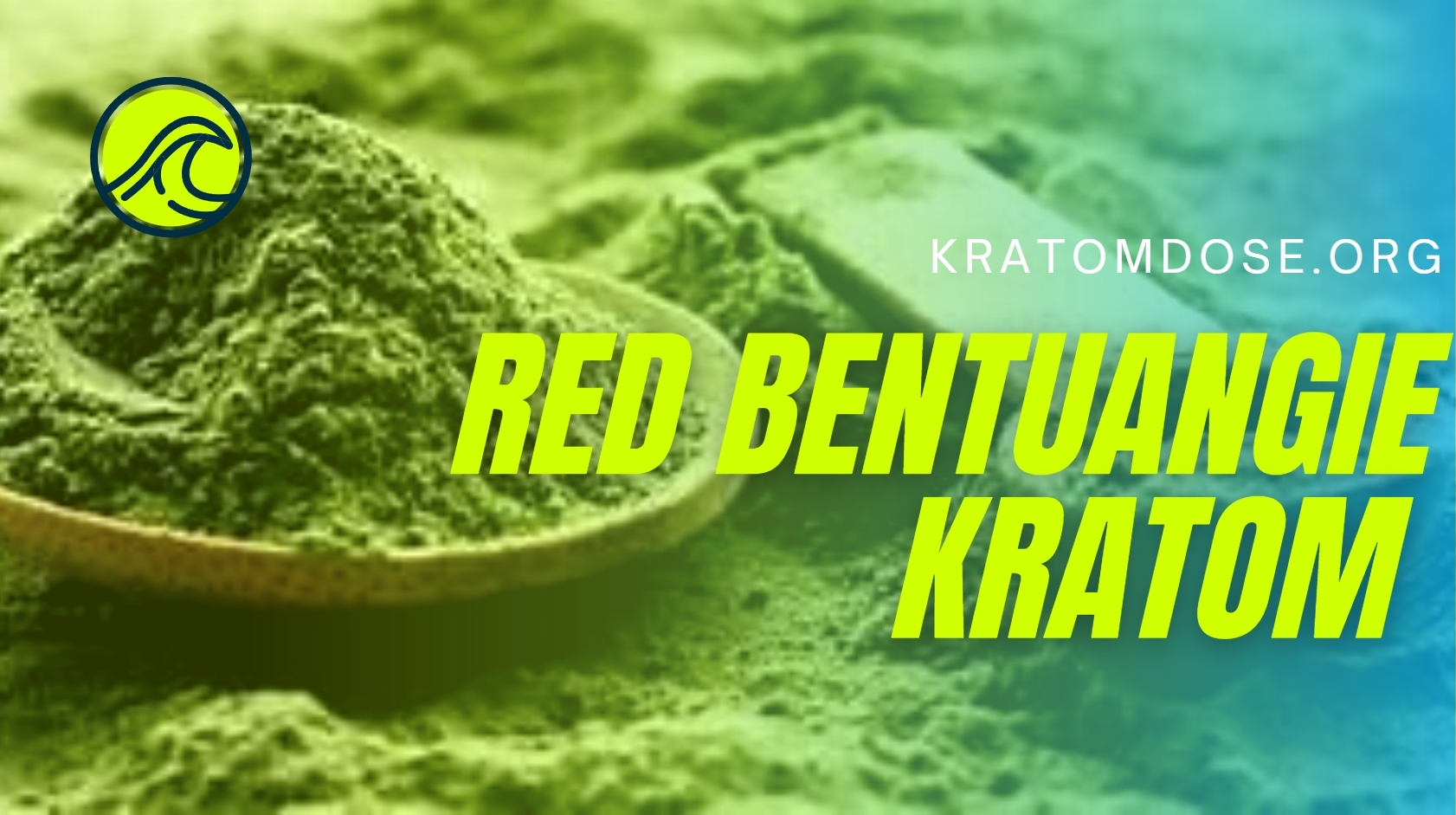 What Is Red Bentuangie Kratom?
Red Bentuangie is among the leading fermented strains of kratom. A lot of debate surrounds the fermentation of kratom, so it is still unclear what the difference is between Kratom Red Bentuangie and other fermented kratom strains.
The confusion is compounded by the fact that many people are not aware that kratom actually undergoes fermentation.
Westerners are hardly privy to much knowledge because it is difficult to get reliable information about the harvesting and processing of kratom. It is not unusual to hear many vendors describing their kratom products in ways that are completely different from other vendors who have the same products.
This is not to be blamed on intentional dishonesty but instead on the challenges caused by geographical and language barriers. Around half a dozen nations are involved in the cultivation of kratom, each with its own languages and practices.
However, when it is exported to North America, all the different cultural labels, names, and styles associated with kratom are described with just a few English words. As a result, Kratom labels and their descriptions tend to have contradicting information most times.
A good example of this confusion is the Red Vein Bentuangie Kratom. Its status as a fermented kratom is its major selling point. That's really all there is. However, depending on the person you're asking, many red kratom strains are as a matter of fact fermented.
To help us understand the truth of the matter, one of our reputable kratom suppliers from Indonesia has done the honor of providing detailed information on growing and processing techniques in his plantation. He explains that any red kratom that comes from Indonesia has been fermented.
So What Is Special About Red Bentuangie Kratom?
So, why is Kratom Red Bentuangie so special? According to reports from many users, this strain offers a unique experience from other red vein variants.
The difference may be a result of the time it takes for kratom to ferment.
The process of fermentation of Bentuangie Kratom is fickle. If the leaves are fermented for too long, they will turn bad. However, if they are not allowed to ferment for enough time, most of the stimulating alkaloids will be retained and this will result in effects that are like those of white or green strains.
There are rumors too, or legends, as some might call them, of a secret recipe for Indonesian kratom fermentation. It is a common belief that this secret formula produces the true Bentuangie Kratom.
If a secret formula really exists, then it is still one of the most tightly guarded secrets. However, the unique experience that Bentuangie Red Kratom provides is one reason to believe in the existence of a secret formula.
Effects of Red Bentuangie Kratom
The effects of Red Bentuangie Kratom can be compared to other red strains. However, its strengths seem to lie in the aspect of anxiety management. Check out this rating chart to help you compare the effects of Red Vein Bentuangie Kratom with those of other strains.
Here is a little more information on Bentuangie Red Vein, including why it efficiently provides the benefits associated with it.
Sedation and Pain Relief
Red Bentuangie Kratom is an excellent strain for sedation and pain relief.
As the kratom undergoes fermentation, some of its stimulating alkaloids change into alkaloids that are more sedating. As far as kratom is concerned, sedation occurs mostly because the alkaloids have formed bonds with the opioid system receptors in the body.
This system is the one that painkillers such as morphine act on. Compared to these synthetic opioids, kratom is much less potent and poses less danger. However, its interactions with the opioid system still produce reasonable levels of relief.
As far as the opioid system is concerned, sedation and pain relief are complementary. This is due to the stimulation of a particular opioid receptor known as the Mu receptor which causes the body to directly experience both effects according to the quantity and potency of the substances interacting with the receptors.
One thing to note is that kratom alkaloids are only partially agonistic. This means they only partially stimulate the body's opioid system receptors. It is different from fully agonistic opioid drugs such as heroin and morphine.
Full agonists can stimulate these receptors fully, which can cause overdose and severe addiction. Fortunately, this happens only when people receive pharmaceutical sedatives in high doses or in the case of illegal street use.
When users take an overdose, their breathing stops because of the extreme sedation and they fall into a state of unconsciousness which may lead to death. There are no full agonists present in kratom, so it has no potential to cause a fatal overdose.
Anxiety Relief
According to many users, Red Bentanguie is said to be one of the best kratom strains for anxiety relief. This is also most probably because the opioid receptor sites are more stimulated.
Strong opioids are known to be effective in helping to overcome anxiety. Due to the high amounts of opioid-like alkaloids that are present in Red Bentuangie Kratom, this effect would be the expected natural result.
Mood Enhancement
Red Vein Bentuangie Kratom is not really the most effective for mood improvement, but it does have some benefits. Interestingly, the mood-enhancing qualities of kratom can be produced by many different mechanisms.
Kratom generally induces mood improvement by stimulating dopamine. Any kind of kratom will have the ability to stimulate dopamine, and that also includes Red Kratom Bentuangie, though this effect is more powerful in the case of stimulating strains that are on the euphoric side.
Moreover, the interactions of kratom with the opioid system can also enhance mood. Since the opioid system plays a major role in anxiety and pain management, kratom can be beneficial to stifle unpleasant emotions.
People who are suffering from severe emotional disorders or problems will find this to be a major mood improver.
It is important to not consider this temporary relief to be a permanent fix. While kratom can offer temporary relief from emotional problems like a Band-Aid, it is only ideal to use Red Bentuangie Kratom for this purpose when you intend to see a psychologist or therapist for a long-term solution.
Conclusion on Red Bentuangie Kratom
Red Vein Bentuangie strain is interesting and has some confusion and controversy surrounding it. Nevertheless, it has proven to be highly effective, especially when used to treat anxiety.
If you would like to experiment with Red Bentuangie Kratom, ensure that you choose a genuine and transparent vendor to buy it from. There are too many inconsistencies among various kratom vendors, so you should be sure that you're getting a quality product.